Hello. LimeHazard here.
Ok so, back in the days of 2017-2018, I drew Hollow Knight Major Arcana. (which you can find here). I took a break from HK after that, and did a bunch of other art and even opened a Ko-Fi.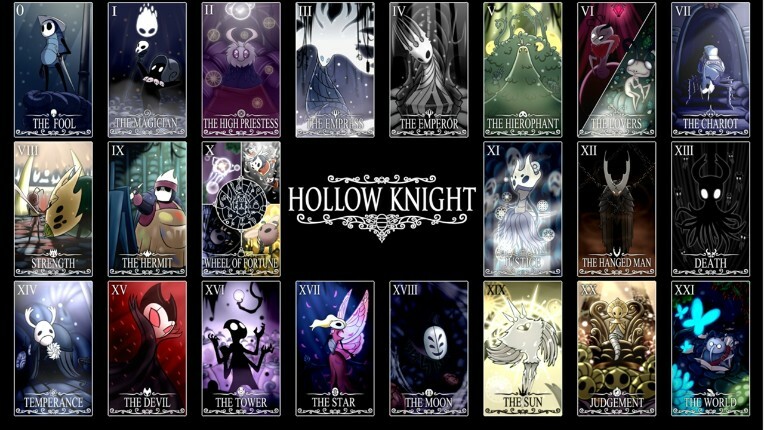 That said, I plan on continueing the Hollow Knight Tarot cards, this time with Minor arcana, which consists of 56(!) cards.
While the world of Hollow Knight is expansive and houses tons of interesting characters, it might not be enough. This is where YOU come in!
Drawing 56 fully illustrated cards is, of course, not an easy feat considering it took me a whole year to complete 22 cards of Major Arcana for free. So If you want, this little project come to fruition, you can Commission me to either:
A) Draw a Character of Your choice from the Game on the Card of your choice
OR
B) Draw your Hollow Knight OC on the Card of your Choice.
Obviously that would mean that the choice is limited. Not only that, but the Kings, Queens, Jacks and Aces of each suit is reserved to Lore-relevant characters, so no OCs there. That Limits to pool of Commissionable cards to a nice round number of 40!
If you are interested You can DM me on Reddit, Twitter or Newgrounds to discuss the details.
The general terms are: 1) The cards cannot depict Little Ghost or Hornet; 2) Your OCs should fit in the world of HK design-wise; 3) You give me some creative liberty over your OC to make it fit in the world HK.
If you're not interested, but know someone who might be, spred the word! Every bit of help is be apreciated. If you don't feel like paying $80+ for a commission but want to support my endeavors anyway, you can always donate to my Ko-Fi, and I'll count it towards making the uncommissionable 16 cards.
(!) THE CARDS WILL BE FOR PERSONAL USE ONLY, YOU CANNOT PRINT AND SELL THEM ON SITES LIKE ETSY OR THE LIKE! (!) IF YOU SEE THE CARD ART BEING PRINTED AND SOLD, REPORT THEM (!)
Thank you for your time.